Conference Location
&

Hotel Accommodation
The Westin Boston Waterfront Hotel will be the site of the 2019 SAS Annual Conference sessions and social events. It is located at 25 Summer St, Boston, MA 02210. The room rate has been negotiated for SAS attendees at $159 per night (not including a 14.45% room tax)! [Note, if you made a reservation with the previous rate, the $149 rate will be honored.] Secure your online hotel reservations for the annual conference. This room rate is guaranteed until February 22, 2019.
If you prefer to call the hotel, the toll-free number is 1-800-937-8461 (or +1-617-532-4600). Be sure to tell them you are with the SAS Annual Conference.
Staying at the host hotel gives you a better experience and helps fulfill SAS contractual commitments that support the costs of meeting rooms and other convention resources. Please support the annual meeting by staying at the conference hotel!
You will find that the area surrounding the Westin Boston Waterfront Hotel features several landmarks and many restaurants. Please check out the map below that we've created to help you navigate the local area. Access an interactive version of this map here.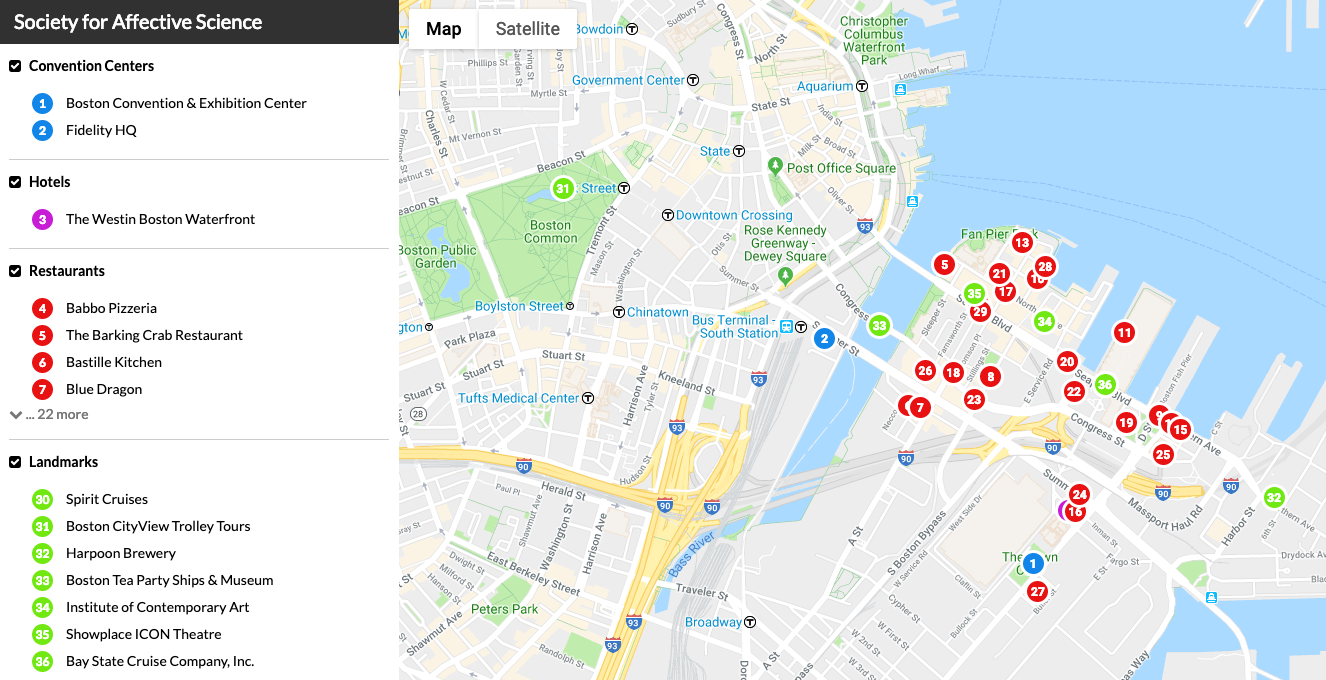 Conference Center Floor Plans
View floor plans for the conference center below. You can also download a PDF of these floor plans here.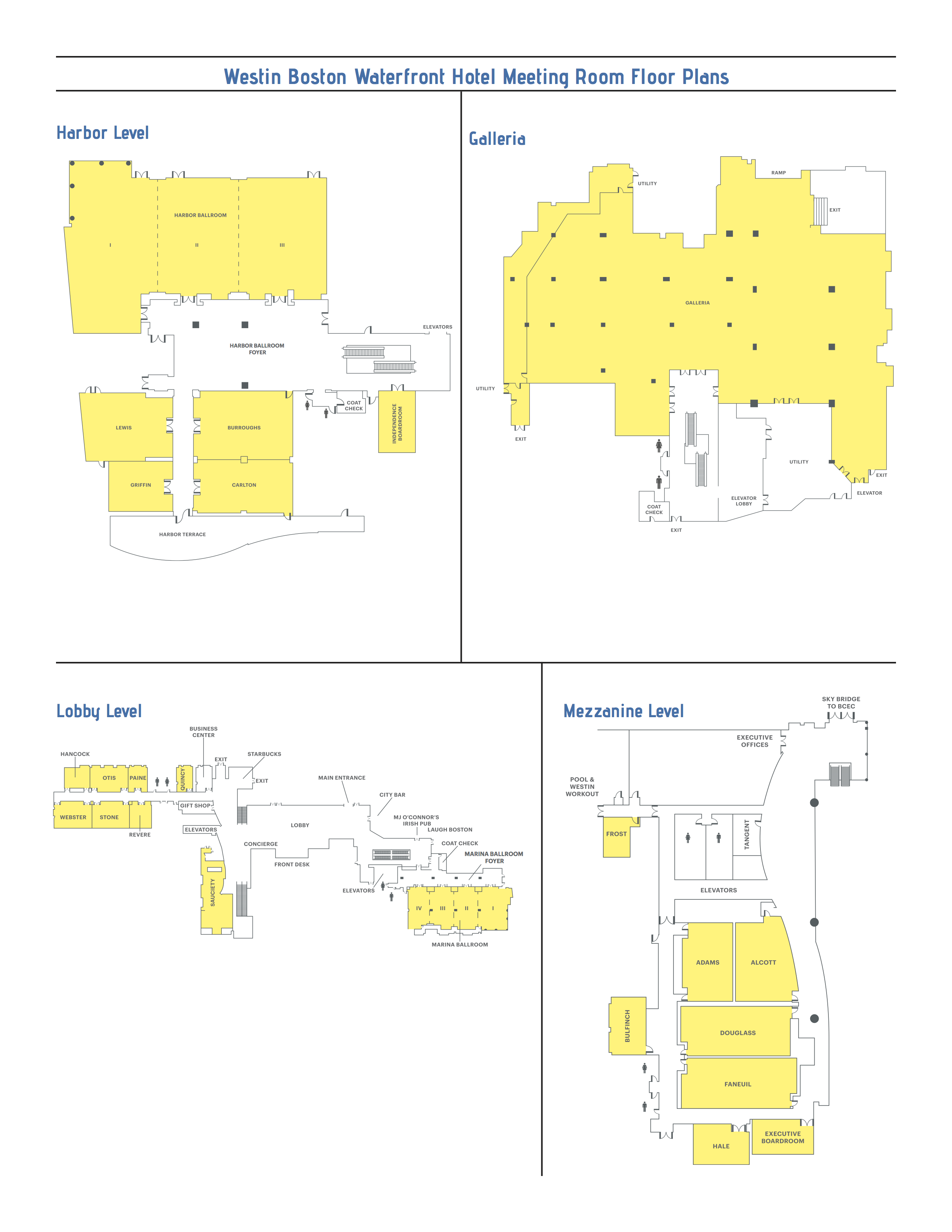 Thematic Flash Talk Guidelines
Thematic Flash Talk Sessions showcase extraordinary scholars in affective science, challenging them to present their most exciting new findings in a fast-paced, 5-minute (per speaker) format. There are two triple-tracked thematic flash talk sessions at the 2019 Conference: Friday, March 23 from 8:45am to 9:45am, and Saturday, March 23 from 9:00am to 10:00am. After each talk, the session chair will invite one or two questions from the audience.
For thematic flash talks, please observe the following guidelines:
Prepare a presentation that is no longer than five minutes. The presentation should be coherent, concise, and to the point. The most successful talks will present one study or – at most – two related studies to make a single coherent point. Anything more could lead to information overload in such a short period of time. Timing is strictly enforced.
The most successful talks have no more than five slides. Note that you may use "build features" and  animations in your slides, but no more than five base slides are recommended for this short presentation format.
The chair of your session will collect speakers' slides in advance of the conference. They will email you with a deadline by which you need to email him/her your slides.
A laptop computer (PC) will be provided at the podium. Your presentation will be loaded on the laptop and ready for you to access. There will NOT be time to switch computers between talks, so please plan your slides accordingly. The following software will be available on all presentation computers:

Operating System: 
Windows 7 Professional (x64 Bit) Service Pack 1 or Windows 10
Microsoft Software Installed: Microsoft – Office Professional Plus 2013; Microsoft Word 2013; Microsoft Excel 2013; Microsoft PowerPoint 2013. This version of MS Office will operate files from earlier editions.

Wireless internet service is available for attendees to use but is not strong enough to support presentations. Audio/visual technical assistance will be available in the general session meeting room and technical support staff will be roaming amongst the breakout rooms should you have any questions.
A friendly reminder that all presenters must register for the conference. Please do so if you have not already.
You can access a PDF version of these guidelines here.
Questions?  Please contact Jane Shepard.
There will be three poster sessions at the 2019 SAS Conference, all of which will be located in Galleria Hall at the Westin Boston Waterfront Hotel. The schedule and guidelines are provided below:
Poster Session A Thursday, March 21, 2019
5:15pm-6:15pm
Assemble your poster
6:15pm-7:30pm
Author present
7:30pm-8:00pm
Take down your poster
Poster Session B Friday, March 22, 2019
12:00pm-1:00pm
Assemble your poster
1:00pm-5:45pm
Poster viewing
5:45pm-7:00pm
Author present
7:00pm-7:30pm
Take down your poster
Poster Session C Saturday, March 23, 2019
11:30am-1:00pm
Assemble your poster
1:00pm-3:00pm
Poster viewing
3:00pm-4:15pm
Author present
4:15pm-4:45pm
Take down your poster
Personal interaction with meeting attendees is an important part of your poster presentation. Please make yourself available at your poster during the "Author Present" time to answer questions and interact with your colleagues.
A tack board, 4 ft. high x 8 ft. wide (landscape orientation), will be provided for your poster (includes a 1 inch frame around the perimeter).  SAS will provide poster tacks, but please feel free to bring some of your own to supplement. SAS will not be responsible for any posters left in the poster room after the take-down time is over.
Review these guidelines for the formatting and content of your poster:
Standard Components of a Poster
Title and Authors: Self-explanatory. Include as originally submitted, if possible. Useful to also include contact information for a corresponding author.
Introduction: Include only the minimal background information necessary to understand the project.  If the poster describes an experiment, state a clear hypothesis. Present your hypotheses and/or objectives; a numbered or bulleted list is fine.
Method:  Describe your participants, materials, and procedures in simple, concise terms. This section should be much less detailed than in a manuscript.  Use figures, tables, charts instead of text, if possible. Use limited references for complex procedures.
Results: Display your findings graphically as figures or tables. As above, use figures, tables, charts instead of text where possible. In many cases, figures and well-written figure captions alone can represent your results.
Discussion: Revisit your hypothesis and state whether it was supported by the results.  Briefly consider limitations and suggestions for future research. Explain how this work makes a novel contribution to the field.
References: Provide a limited list of references.
Suggesions to Maximize the Impact of Your Poster
Arrange your poster so that the information flows and the sequence can be easily followed within the space allowed (4 ft. high x 8 ft. wide, including a 1 inch frame around the perimeter).
Be brief and simple. Condense or limit large amounts of data. Limit the number of hypotheses/objectives that you tackle. Limit the number of tables and figures to only the most critical to bring out key points.
Use figures instead of text where possible and use LARGE PRINT for text. The audience should know what you did, why, and what you found by viewing your poster from at least five feet away and within two minutes of time. Lists help to save space, tie everything together, and are easier to read/digest.
Standardize all nomenclature and define all abbreviations. Avoid excessive use of abbreviations.
Label everything (e.g., figure axes). Proofread carefully. Tables should only contain the most important information.
Excellent and entertaining advice on preparing posters can be found here.
---
You can access a PDF version of these Poster Guidelines here.
A friendly reminder that all presenters must register for the conference. Please do so if you have not already. Questions? Please contact Jane Shepard.