Recap, infographic, and reflection: Dr. Katie Hoemann
SAS 2023 Conference Report: By the Numbers
This year's annual meeting was incredible, dazzling 460 attendees with 3 pre-conferences and more than 46 regular conference sessions over 3 days.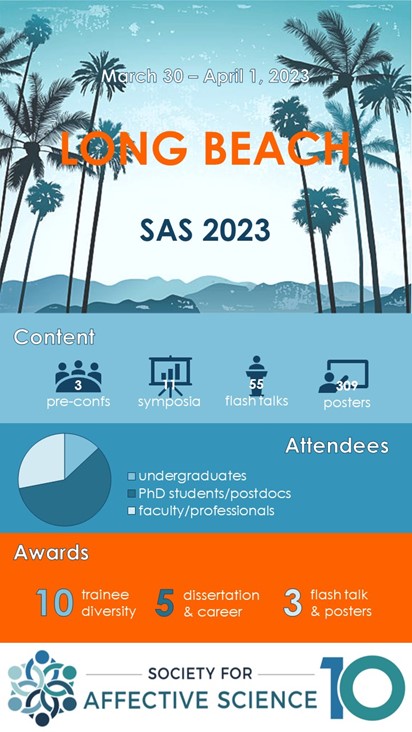 Congratulations again to the 10 affective scientists honored with the 2023 SAS Trainee Diversity Awards and the 5 affective scientists honored with the SAS 2023 Awards!
It's already been more than 4 months since we saw each other in Long Beach, in-person for the first time in 4 years. And this time we were celebrating our 10th conference as a society. It felt like a reunion: of colleagues, of friends, of a science family. We shared ideas, viewpoints, and laughter, reconnecting and growing our community. Most importantly, we learned from each other, fueling our personal and collective passion for research on affect and emotion.
Program highlights included a symposium on neglected senses (smell, voice, touch), a keynote dialogue on consciousness, and TED-style talks on emotions for the planet and perspective-changing collaborations. The program also featured the 2022 SAS Awards winners, the second SAS Diversity Science Symposium with Dr. Julian Thayer, and Dr. Maya Tamir's Presidential Symposium on Culture and Emotion. A bevy of submitted symposia, flash talks, and posters showcased the latest findings and innovations; salons, roundtables, and workshops gave insight into skills and methods; and networking and social events provided opportunities to meet and interact. We congratulated the winners of the 2023 awards – including best flash talk, best posters (new idea, new results), and the 'goose chase' scavenger hunt – and we welcomed President Dr. Maital Neta and President-Elect Dr. Kristen Lindquist.
A huge thanks to Dr. Liz DaSilva and Dr. Andrea Samson, the 2023 Conference Program Co-chairs who put together this science feast! Stay tuned for more details about SAS 2024.
https://affectivesci.wpengine.com/wp-content/uploads/2018/08/sas-logo.png
0
0
Jude Ross
https://affectivesci.wpengine.com/wp-content/uploads/2018/08/sas-logo.png
Jude Ross
2023-09-07 18:51:08
2023-09-07 18:51:36
Issue 4 – Conference Report