Issue 1 – Student Spotlight
Angela M. Smith
Do you know a student (undergrad or graduate) who should be featured for their contribution to the study of affective science? Submit your nominations to
For our inaugural student spotlight, we are excited to feature the contributions and work of Angela Smith, the current Chair of the Society for Affective Science Student Committee (SASSC).
Angela Smith is a third-year PhD student in the social/personality psychology program at the University of Toronto working with Dr. Brett Ford in the Affective Science and Health Laboratory. Their research examines the ways in which emotion and emotion regulation are influenced by socioeconomic and cultural factors, and how this, in turn, influences physical and psychological health. Additionally, they are interested in the role that emotion regulation plays in the contexts of politics and social justice. Their work has been published in some of our field's prominent outlets, including Psychological Science and Psychosomatic Medicine.
In addition to their exemplary research, Angela has been actively involved with SAS for the last several years – starting as the executive secretary for SASSC (2019-2021), moving up to vice chair (2020-2021), and now chair (2021-2022). In addition to their work with SASSC, Angela was also actively involved with planning the Emotion Regulation Pre-Conference at SAS in 2019. During this time, Angela has been a true advocate for students. To name a few, they successfully spearheaded a joint initiative creating the 2022 diversity award program for graduate students and postdocs, helped to create a video series highlighting the diversity of SAS's student membership, and organized a series of student-focused salons that will be part of the official programming at SAS 2022.
As this year's SASSC chair, Angela is excited to continue working with students and faculty to increase and highlight the diversity within the SAS community — and they hope to see you at SAS 2022 in April!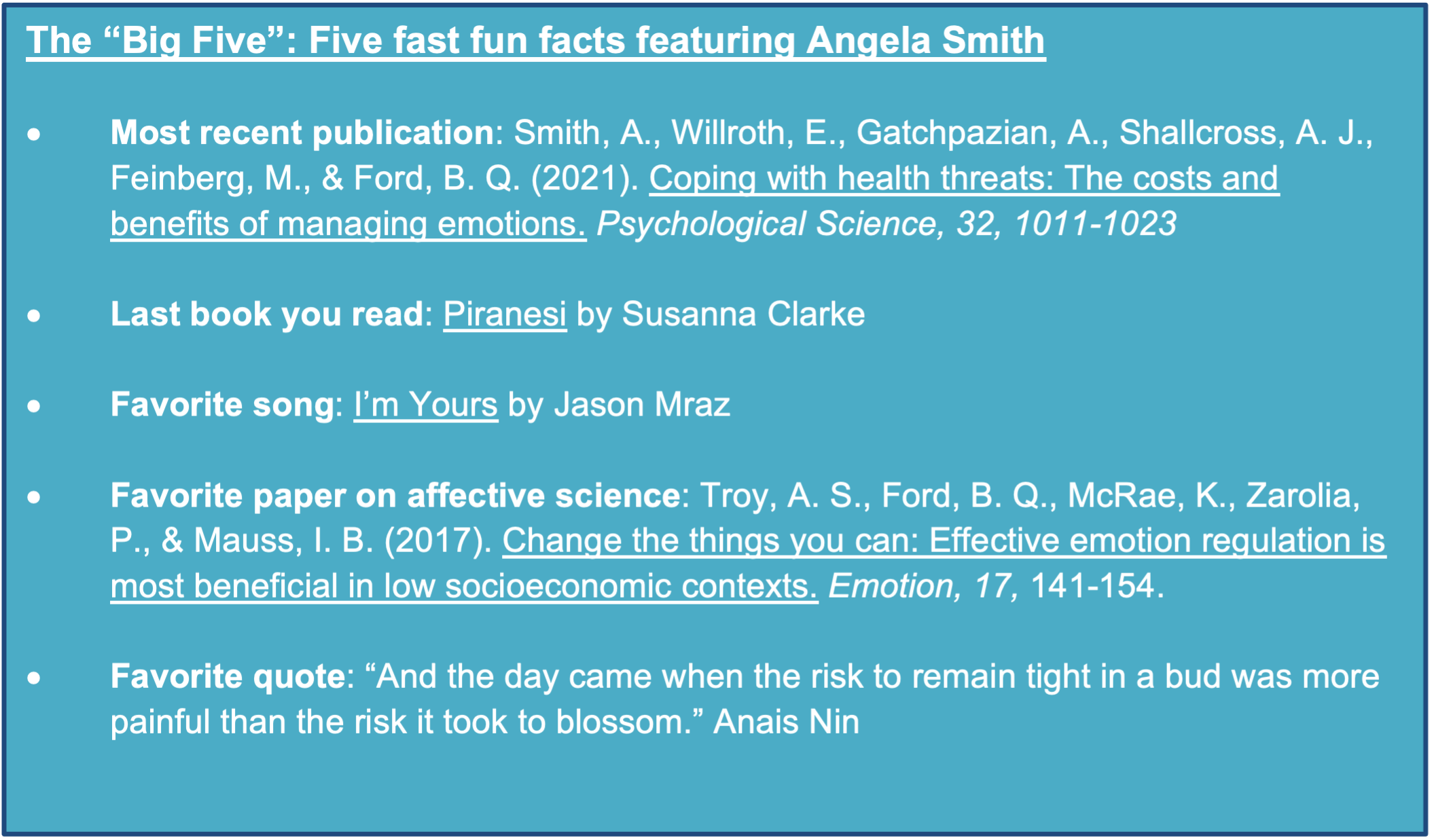 https://affectivesci.wpengine.com/wp-content/uploads/2018/08/sas-logo.png
0
0
Jude Ross
https://affectivesci.wpengine.com/wp-content/uploads/2018/08/sas-logo.png
Jude Ross
2022-01-28 15:55:42
2022-02-08 23:22:14
Issue 1 – Student Spotlight